Wilkat Wilkat Guitars :
About Us / Privacy Policy | Basses | Wilkat's Guitar Tips | Parts | Home | Links | Contact Us
---

Why settle for a factory built guitar or bass that doesn't have what you want? We can build what you want, or perhaps one of our custom Standards will suit your needs. We build to order, but our custom Standards please most players and usually with little or no modifications. Please e-mail us with your questions.

---
The Wilkat Élan Elegante Series guitar is our latest design and features all gold hardware for a prestige look to compliment it's high quality tone wood construction and superb playability. The Élan is part of our Elegante Series and features a Butternut - Maple - Purple Heart body, with a one piece Maple neck, a Rosewood finger board and jumbo frets. Dual Gold covered Humbucking vintage style pickups, with three way selector switch and tone and volume controls. The neck is Danish satin oiled and the body is high gloss polyurethane. The nut width is 1 11/16" and the fret board radius is 12" for easy string bending. All Wilkat guitars and basses feature two-way adjustable truss rods for proper neck relief and superb string action.

---
New Élan Elegante Guitar with Carved Top!
Wilkat Élan Guitar. Unit Price: $2,492.00 Canadian Dollars (Note: All items, taxes and shipping not included). Note: U.S.A. residents are responsible for any custom / duty charges into the U.S.A., if applicable. Prices to change without notice.
Click Photo above for more pics and details
---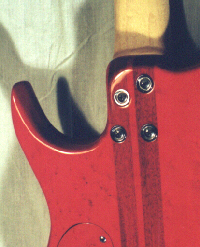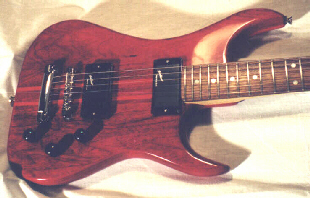 Palm Fit Neck Joint Wilkat Rockmaster Custom w/Butternut Top

Wilkat Rockmaster Custom with Butternut top and Bird's Eye Maple back: Unit Price: $2,308.00 Canadian Dollars. Dual Humbuckers, dual volume controls and one tone control allows for full tonal range. Click Photo above for more pics and details

---
The Wilkat Rockmaster Elegante Series guitars feature figured tone woods like Bird's Eye and Curly Maple or rich grained Butternut. The result of using these woods together is sweet tone and ideal weight - you can play these guitars all night and never have a sore shoulder. Prices start at $1,775.00 depending on number of pickups, hardware and wood selections.

This Wilkat Rockmaster features a high gloss finished figured Maple top and a Butternut body with a Mahogany spline. The Maple neck sports a Kingwood finger board with a satin Danish oil finish.
Notes: Badass, EMG, Grover, Strat, Stratocaster, & Telecaster, are registered trade names of their manufacturers and are not affiliated with Wilkat Guitars.
Leo Fender (may he rest in peace), best known for his creation of the Fender Telecaster and the Stratocaster (which are registered trademarks of Fender Musical Instruments) was the founder of Fender Guitars and Basses. He went on to establish G & L Guitars with his partner George Fullerton. Neither of these wonderful people are affiliated with Wilkat Guitars in any way, but they have our utmost respect and admiration.

---
NECK WARPED? IS IT, OR IS THAT THE WAY IT SHOULD BE? CLICK HERE FOR WILKAT'S TIPS
Tuning Problems? See Wilkat's Tips by Clicking Here
---
Wilkat Guitars :
About Us / Privacy Policy | Basses | Wilkat's Guitar Tips | Parts | Home | Links | Contact Us